The Skyline series of tents brings a new type of style to outdoor glamping. With their design, the Skyline tents have changed how we think about camping. These tents provide more than just a place to stay, they offer a way to be close to nature while still enjoying comfortably and lavishly.  
1. Charm of Glamping Outdoors
Glamping, a word shorts for glamorous camping, is a great blend of outdoor camping and modern comfort. During traditional camping, sometimes you probably have to struggle with humble tents and a lack of basic living facilities. Glamping just provides you with a paradise that takes outdoor camping to a whole new level. In the world of glamping, you'll find luxurious accommodations like safari tents, cabins, and glamping domes. These offer you cozy beds, electricity, lovely furniture, and even private bathrooms. All of these ensure a different level of comfort that traditional camping can't achieve. Glamping is a wonderful way that allows you to enjoy the beauty of nature lavishly and comfortably.
Its great convenience is one of the biggest advantages of glamping. The places of glamping are often located in some areas that are easy to reach. Some traditional camping spots are so far from the nearby cities. Also, glamping sites offer many types of interesting activities, such as tasty meals, glamping parties, feeding animals, and so on. So, if you're looking for an amazing outdoor experience that combines beautiful nature with so many fun activities, then glamping is the answer.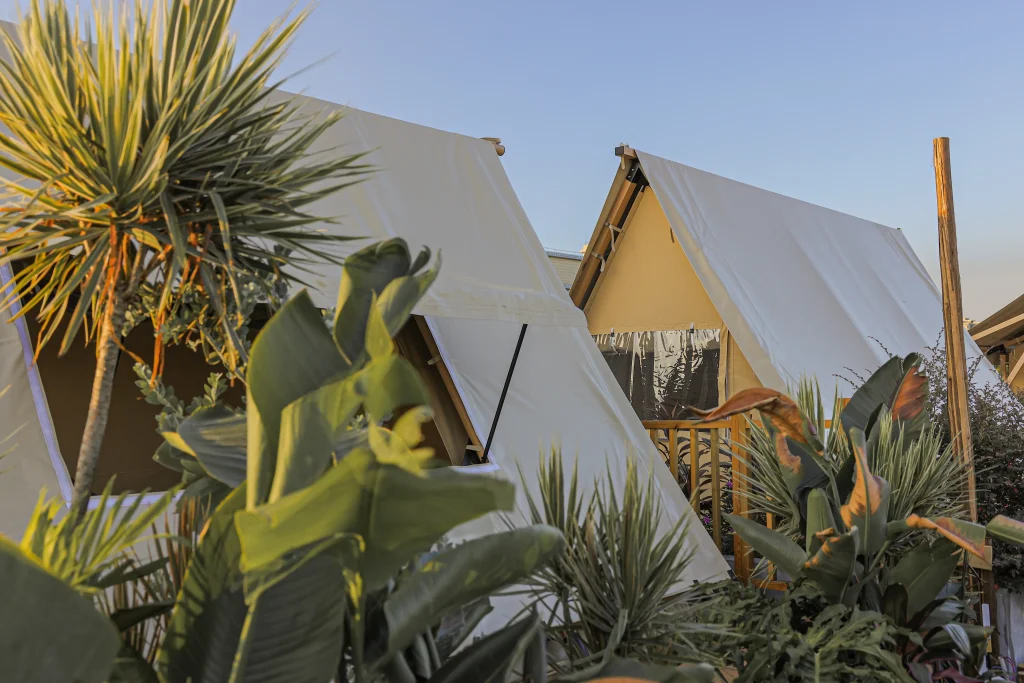 2. Unique and impactful design
The skyline tent is an elegant and modern tent created by the seamless unibody fabric. It is made from the latest PVDF tensioned membrane material, it's not just visually appealing but also highly functional. PVDF is an ideal choice for those who want a long-lasting and reliable outdoor glamping experience. Its climate resistance means that it will not fade or become brittle even though exposed outside for the long term. Its high resistance to UV rays ensures that its color and qualities are unchangeable no matter how intense the sunlight is. It also allows it to maintain its strength even when hit seriously. These features make PVDF a great solution in various extreme situations.
This spacious tent has a stylish and modern design, which is held up by several poles and guy ropes on both sides. The front of the tent is open and there are multiple levels or platforms, which means that it is suitable for outdoor performances and events. The top of the tent has two green flags that smartly match nature. Around the perimeter of the tent are several white fences, some potted plants, and other support structures. The whole impression is that this stylish and functional tent is perfect for outdoor gatherings, festivals, or performances.
3. The perfect combination of function and elegance
The Skyline tent is more than just its elegant appearance. It equips advanced fire-resistant features seamlessly integrated into its fabric, which means it can resist flames naturally. Helping you reduce the risk of fire and making your environment safer. The tent is spacious enough to accommodate from 50 to almost 200 guests. The Skyline tent always provides customizable solutions for many types of events. Whether you want a space for a dinner with close friends, a fancy wedding, or just an outdoor glamping party.
This tent combines elegance with its great use, and that is why it becomes an ideal choice for people who need both style and security when holding an event. No matter what the need, the Skyline tent will ensure beauty and practicality at the same time.
4. Strength and Durability
A skyline tent not only catches the eye of people visually but also signifies that the appearance will last long by the test of time. Making the design more practical is undoubtedly significant. Well-designed construction can be built with great waterproofing to ensure it confronts terrible weather like heavy rain.
Moreover, an important part of creating a design that works well is that it's supposed to be stable, no matter where it's placed. Whether it's sitting on rough ground or nestled in tough spots, they need to stay firm. To construct something that doesn't just look good, but is also really stable and can be used in lots of situations.
The Skyline series of tents ensures that every event is specific and flexibly customized for different clients. The elements are all up to your choice. You can pick how big it is, how it's set up, and how it looks inside, to make the tent just perfect for meeting your needs. There is a wide selection of options for frames, covers, wall packages, door packages, and double-coated block-out PVC roofs available to suit different needs and preferences. Just express all the things you want, and make the tent show the atmosphere you're looking for. With these customized options, your event will be unique and full of your own style and ideas.
6. Eco-conscious Elegance
Apart from the reasons above, the Skyline series of tents is also eco-friendly to the environment. The materials they're made of are chosen carefully. For example, The two frames used in our tents are aluminum alloy and steel, which can be used for the long term. Especially aluminum, because its recycling process is more efficient and energy-saving. Plus, the tent provides energy-efficient lights and solar energy that do not harm nature at all. If you choose the Skyline tent, it means you're choosing something that's friendly to nature and helps keep the beauty of the great outdoors.
These are some features that the tents can pioneer lavish Outdoors glamping experiences. The Skyline series of tents redefines the camping experience for camping lovers. It breaks the boundary of traditional design and the inner space of tents. Greatly blurs the lines between indoors and outdoors, which gives you a cozy and open space to enjoy. It also shows how technology and design can enrich the camping experience together. Making camping perfectly blend with lavishness.