Glamping, a word short for "glamorous camping," has taken the world by storm in these years. It offers travelers the perfect blend of luxury and adventure. Moreover, within this domain, the glamping tent is the heart and key support. Now let's delve into the world of glamping tents together, to explore their diverse features, eco-friendliness, durability, and their growing value in the commercial field.
Ⅱ.The Glamping Tent: A Binder of Luxury, Comfort, and Adventure
In design conception, a glamping tent is a blend of traditional camping and luxury accommodations. These tents are designed to provide a comfortable and buzzy accommodation in the center of scenery. Accordingly, the unique design and facilities within these tents provide the basis for a perfect luxury camping experience.
Robust Support Structures
One of the key components of glamping tents is their robust support structures. These structures ensure the stability of glamping tents even in harsh weather conditions. They are designed to withstand strong winds, heavy snows heavy rains etc. Which make glamping tents a safe choice for adventurous hobbyist.
Glamping tents utilize insulating fabrics that keep the interior comfortable throughout the year. This makes sure the interior temperature stays warm during chilly nights or stays cool under the scorching sun, providing an ideal environment for clients to enjoy their relaxation.
Safety is paramount, and glamping tents often incorporate fire-resistant materials into their fabric. This feature not only adds to the security of the guests but also reduces the risk of accidents in the wild.
Ⅲ.Luxurious Amenities Within-- Comfort guarantee
Spacious Interiors and Various Decoration Styles
Benefit from the solid structures and spacious interior space, the interior of the glamping tent can be paired with a variety of styles of decoration and a variety of functional amenities, some even spacious enough to be equipped with kitchens, seating areas, etc., to provide residents with unprecedented unique travel experience
High-Quality Beds and Furnishings
Guests can enjoy high-quality beds and furnishings within glamping tents. These elements ensure restful sleep and a cozy atmosphere comparable to high-end hotel rooms.
Private Bathrooms and Showers
Many glamping tents even come equipped with private bathrooms and showers, elevating the camping experience to new levels of convenience and luxury. Some people may worry about the moisture problem caused by this. It sounds so irritating that our perfect trip would be ruined by damp clothes and water-stained floors. But actually, the considerate designer has already anticipated these negative situations and equipped this type of glamping tent with a drainage system to maintain the indoor environment's humidity within an appropriate range. So there is no need for us to worry about their trip.
Electricity and Air Conditioning
It's a nuisance to live somewhere without electricity, and it's inevitable when you travel in the wilderness in the old days. However, Modern glamping tents can solve this problem. Most types of them have sufficient technical support that enables them to be equipped with advanced technical facilities, which ensure the provision of electricity and air conditioning. Additionally, they are designed to effectively conceal electrical wires, enhancing both aesthetics and safety. This guarantees that guests can enjoy a comfortable stay and maintain a positive mood even in remote and inhospitable areas.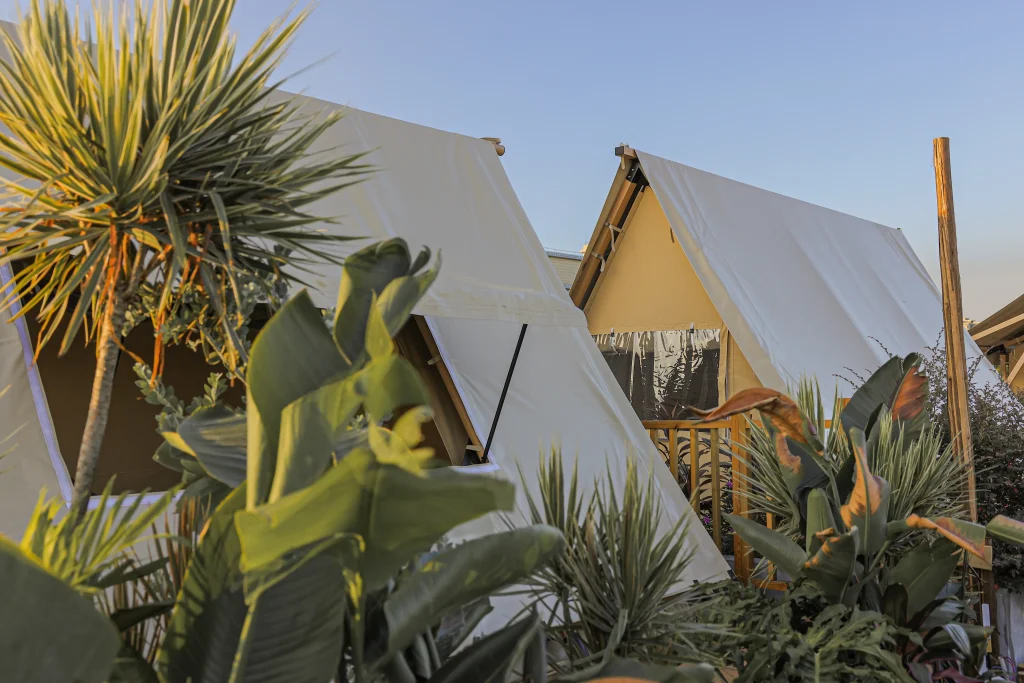 Glamping tents bring people closer to nature without compromising their quality of life, which is one of the primary attractions of it. Large windows, outdoor seating areas, and open-air dining options allow guests to immerse themselves in the grand natural scenery surrounding them. Everyone could rest and revive to life when setting themself here. In addition, a glamping tent is undoubtedly a perfect plot for people to snap photos and share them on social media. After all, it's quite easy for us to have precious memories when living in a place with the wild surroundings, beautiful tent exterior, and luxurious interior space
Ⅴ.Eco-Friendliness and Durability
With rapid economic development, maintaining sustainable development and protecting ecology has becamed an isssue that cannot be ignored. Most glamping tents use eco-friendly materials, which reducing human environmental footprint and contributing to the preservation of natural beauty. Moreover, compared to traditional tents, glamping tents boast longer lifespans, which deserves our appreciation reduce the amount of waste generated by discarded camping gear and. It must be mentioned that glamping tents are built so durable to withstand harsh weather conditions, ensuring the safety and comfort of guests even in harsh environments. 
Ⅵ.The Business Value of Glamping Tents-- Investment and High Returns
1.Rapidly Increasing Market Demand:
With continuous economic development, there is a growing inclination among individuals to pursue spiritual gratification and embrace a high-quality lifestyle. Their travel preferences have evolved beyond mere accommodation necessities, as they now seek distinctive, opulent, and nature-immersed lodging experiences. 
This prevailing trend of seeking pleasure and an elevated standard of living has significantly heightened the popularity of glamping tents as a highly coveted lodging option. The exponential growth witnessed in the glamping market has attracted diverse categories of travelers ranging from couples to families and even corporate clients. This escalating trend presents investors with an enduring market demand.
2.Diverse Customer Segments:
As we can see, glamping tents have various forms and styles, so that they can be customized based on different customer segments and needs. It's so attractive that investors can choose special themes and facilities targeting specific target markets. This segmentation ability means it is easier for investors to attract and retain loyal customers.
3.Efficient Installation and Maintenance
Compared to traditional resorts or hotels, constructing glamping campsites is often more rapid and cost-effective. These tents typically employ prefabricated or modular designs, allowing quick setup. So that investors can start operations faster and achieve quicker returns on investment.
And another alluring thing is that glamping tents can typically be rented at higher prices due to the unique accommodation experience they offered.It's obvious that many customers are willing to pay more for luxury, comfort, and a close-to-nature experience. If you invest in glamping project,you can achieve high returns in a short period, especially during peak tourist seasons.
In summary, with their elegant design, lavish amenities, and eco-friendly features, glaming tents offer a perfect blend of nature, luxury, and adventure in tourist experience, which provide an enticing alternative to traditional camping. Moreover, their increasing popularity in the business world highlights their enduring charm. Whether you are a nature enthusiast, an entrepreneur or simply seeking a unique getaway experience, glamping tents can cater to your needs.